Partner with us to get a complete IT department with unlimited remote support at a flat monthly rate.
Managed IT with peace of mind
Your IT services provider should help and not hinder operational continuity. At MAV Computers, we offer simple pricing, clear technology priorities, and continuous business insight. Let us help you run your business more efficiently, with better productivity, and with less stress from IT failure.
We base our services on three core aspects: management, monitoring, and maintenance. As a full-service outsourced IT department, we proactively monitor your IT environments around the clock to catch problems before they arise.
Who benefits from managed IT services?
Anyone who has a vested interest in business IT running smoothly. Outsourcing your IT frees your team to focus more on business and less on IT.
Executives see increased productivity and less downtime. IT directors and end users spend less time troubleshooting issues or waiting for fixes.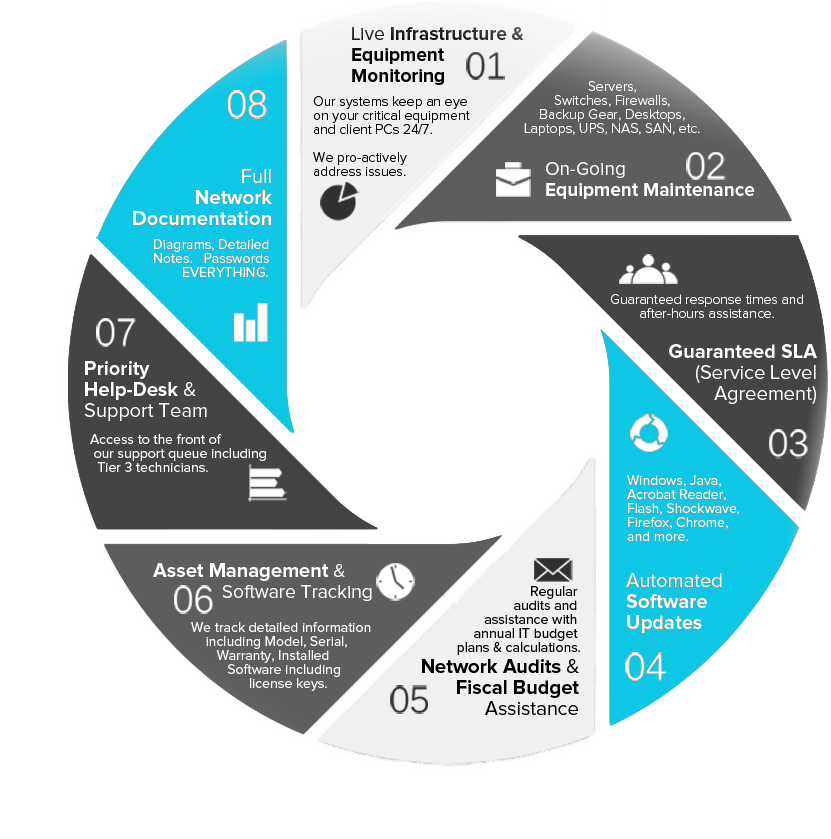 What's it like getting started?
Features of our MAV Managed Services plans
Surprisingly, the idea of using a centralized platform to manage IT issues is not a new one. From the 1970's through the 1990's, the first pre-MSPs began to emerge from the prehistoric computer age. At that time, the desktop computers were clunky, screens flashed green cursors, and millions of people died virtually of dysentery in the game, The Oregon Trail.
Enter the Application Service Providers. ASPs began offering remote hosting services for applications. This set the framework for the evolution of managed services providers. Originally, these MSPs focused mainly on RRM, or remote monitoring and management. More people became aware of these early managed services providers and wondered, "just what is an MSP and how is it different from ASPs?"
The obvious answer to this was for the MSPs to distinguish themselves by adding services. Today's MSPs offer everything including backup and recovery solutions, cloud services, employee cybersecurity awareness training, network repairs, VPNs, hardware upgrades, email security, event monitoring, and, of course, cybersecurity.
Many of us have heard the term "managed services provider," but exactly what is an MSP, anyway?
An MSP is a company offering remote IT managing services to their clients' IT infrastructure. The client allows the MSP to monitor its entire network from a centralized location. They will also provide cybersecurity protections, end-user protections, cloud services, and much more. MSPs will bundle the cost of the services into one predictable, monthly bill based on the Service Level Agreement the client signs.
Many times, clients find the services offered by an MSP to be less expensive than they can get with their own IT department. This is because MSPs have large pools of talent and resources and can get services or hardware far cheaper than a company can on its own. These companies also find that not having to pay salaries to expand an IT department saves them significant money in their IT budget.
The answer to that question, is yes. SMBs are particularly well positioned to benefit from working with an MSP.
Small to medium-sized businesses make up a large portion of the MSP landscape. These are the businesses that tend to have smaller IT budgets, a lack of qualified IT personnel, and less resources than their bigger counterparts. And statistics show, these companies are signing managed IT service agreements like never before. In fact, recent estimates predict the IT MSP market will grow 12.6 percent year over year through 2028, topping $557 billion in revenue.
The business benefits of working with an MSP are substantial, including:
Cost savings: MSPs tend to deliver IT services for less money than internal IT departments can
More available resources: Internal IT departments can be free from routine IT management
Expertise: MSPs have large pools of talent and resources
Regulatory compliance: MSPs have an ongoing understanding of ever-changing regulatory requirements
Network security services and round-the-clock monitoring
Support services: Your internal IT guys may log off at 5, but most MSPs have round the clock support services
Data Recovery Services: After a disaster, an MSP can quickly recover data and get the network back up and running
Scalability: A managed services provider can add resources during big projects or any other reason IT needs escalate
Supplying qualified IT workers: There is a huge demand for IT workers, without enough of them to fill the empty seats
Replace an IT department or supplement it: Based on your business' needs, an MSP can replace an IT department entirely or work in a partnership with your current IT team
The value of an MSP to a small to medium-sized business will always come back in ways your budget will thank you for, such as predictable billing under your Service Level Agreement.
Your managed services provider will evaluate your network, looking for security gaps and potential issues within it. This evaluation will consider the size of your business, how many employees are working for you, what your industry or vertical is, and what your end goals are. Your threat risks and the condition of your current hardware will all be evaluated as well. In short, if it concerns your network, it will be looked over. From there, your MSP and you can decide on what package will best suit your business' needs.
The Service Level Agreement is a signed contract explaining the services you will receive each month. It can range from comprehensive to basic with add-ons, depending on your needs.
This contract guarantees that you understand completely what is covered and what is not. The result is predictable monthly billing, much like your cable bills or car payments. Everyone loves a surprise, like a visit from your long-lost Aunt Erma, but no one likes surprise charges on their bills.
Some companies have their own IT departments, or they "have a guy" who can fix network issues as they arise. This is called a break-fix model. The problem with this approach is that by the time the issue has affected your network, chances are, its grown into a much larger one.
Break-fix can be an option with some MSPs, but most companies and MSPs will choose to proactively monitor the network and look for these issues before they affect daily activities. Even one hour of downtime can cost your business significantly, so your MSP will constantly look at your network to prevent downtime from happening in the first place.
What is an MSP option may not be an option for your internal IT department; chances are, you can't afford to have "your guy" constantly reading event logs and looking for network errors.
Co-managed services is a great balance between "having a guy" and reliable, fast network repair.
RELIABLE SUPPORT + PROVEN VALUE
Contact us today to learn more about what MAV offers as Your Turn-Key Tech Team.