Did you all watch the announcement from Microsoft this past Thursday?  Windows 11 is now officially on the horizon.  If you missed the announcement, as of this writing, it is available here:  Introducing Windows 11.  This announcement, like most, if not all, Microsoft announcements, is chock full of new and improved features, new graphics, new interfaces, the whole enchilada.  If you are currently using Windows 10, it will be a free upgrade.  Once you get past the Pomp and Circumstance, however, some interesting questions come up.
Windows 11?
Why exactly is that?  When Windows 10 was released, it was to be the last new operating system from Microsoft.  The word then was that there would be no more new numbered releases, Windows 10 would be improved, new features and capabilities added, and bugs fixed every 6 months going forward, but no more new numbered versions.  That notion was rudely ejected a few weeks back when screen shots of Windows 11 were leaked, and it was pronounced dead last Thursday with the release of the official announcement.  From the scuttlebutt I have read, this announcement even caught folks in the Windows Insider program off guard.  There is considerable speculation on the answer to this question, but nothing official.
Free Upgrade?
This, I've heard before…but just how free is free?  Yes, having a license for Windows 10 gives you a license for Windows 11, but will that do you any good?  Seems there are a number of hardware requirements attached to Windows 11 that may well preclude your abilities to get and use the new system.  If you have not yet seen them, now is a good time to check them out – Find Windows 11 specs, features, and computer requirements.
Oh, The Hardware!!
Here is where it gets dicey.  Buried in the requirements document are a number of significant "Gotchas" that will preclude a good many existing machines from running the new OS.  Microsoft has released a compatibility checker you can download and run that will tell you if your system passes muster or not.  You can  Download Microsoft's PC Health Check here.  The first iteration of this tool was pretty abysmal, it would tell you if your system passed or not but gave no indication as to Why your system failed, if it did.  Spoiler Alert – a good many systems are going to fail!  The second iteration of the tool is much better, it will now tell you what part of your system prompted the failure.  If your machine is more than 3-4 years old, there is a very good chance you will see this message when you run the tool: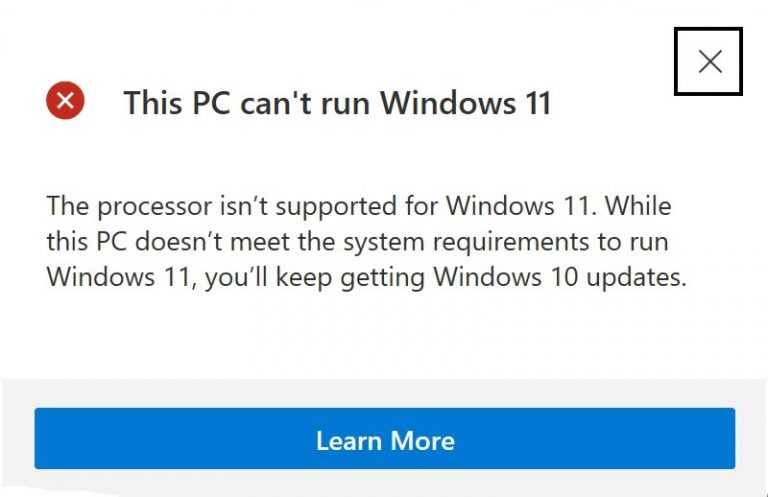 This is because the processor it contains is not on the following list:
| | |
| --- | --- |
| Windows 11 support for Intel | Windows 11 support for AMD |
| Intel 8th Gen (Coffee Lake) | AMD Ryzen 2000 |
| Intel 9th Gen (Coffee Lake Refresh) | AMD Ryzen 3000 |
| Intel 10th Gen (Comet Lake) | AMD Ryzen 4000 |
| Intel 10th Gen (Ice Lake) | AMD Ryzen 5000 |
| Intel 11th Gen (Rocket Lake) | AMD Ryzen Threadripper 2000 |
| Intel 11th Gen (Tiger Lake) | AMD Ryzen Threadripper 3000 |
| Intel Xeon Skylake-SP | AMD Ryzen Threadripper Pro 3000 |
| Intel Xeon Cascade Lake-SP | AMD EPYC 2nd Gen |
| Intel Xeon Cooper Lake-SP | AMD EPYC 3rd Gen |
| Intel Xeon Ice Lake-SP | |
Windows 11 will only officially support 8th Gen and newer Intel Core processors, alongside Apollo Lake and newer Pentium and Celeron processors and that potentially rules out millions of existing Windows 10 devices from upgrading to Windows 11 with full support, even devices like Microsoft's own Surface Studio 2 which the company is still selling right now for $3,499.  I'm writing this article on a Surface Pro 5, a machine that is NOT compatible because it's i7 processer is a 7th generation Kaby Lake, so I'm in that boat.
Windows 11 is being touted as a superb gaming platform, but a good many gamers will find themselves on the outside looking in.  To gamers, the latest, greatest, and most powerful GPU is a must, but the CPU?  As long as it has enough horsepower to handle the mundane stuff, who cares?  It is not uncommon to find 5-6 year old processors in gaming machines.  This is the first significant shift in Windows hardware requirements since the release of Windows 8 back in 2012, and the CPU changes are understandably catching people by surprise.
Rumors about a major Windows redesign have been circulating for the past year. At the Microsoft Build developers conference on May 25, CEO Satya Nadella said Microsoft was planning "one of the most significant updates of Windows of the past decade," confirming that a major change was on the horizon for the 1.3 billion users of the OS in 2021. And in mid-June, Microsoft quietly announced that it would end support for Windows 10 in 2025.